Review from Google:

I had 6 sessions with Dan for claustrophobia and anxiety issues which completely changed my life. Had no previous experience of hypnosis before only what I had seen on TV but it was nothing like that. Dan chatted to me to get a full understanding of my issues then personalised each session. There as no 'your cured' moment just a realisation that all my negative thoughts and anxieties were first reduced then eliminated. I had issues travelling and I remember after my 2nd session thinking 'I just drove here without thinking about it'The freedom it gave me was amazing! Would definitely recommend Dan for all types of issues, anxieties and phobias. His venue is easy to find and easy to park. The setting is comfortable and relaxing.
Su Hunt
Ely
November 25, 2023
Category -
Anxiety & Panic Attacks
Review from Google:

Dan is absolutely amazing. I contacted him about my very real irrational fear and after only a few sessions I was feeling much calmer. To my last session where my fear had all but disappeared! Not only did the hypnotherapy work, Dan provided me with lots of advice on coping mechanisms. Would absolutely recommend to anyone!
Donna Sindle
Ely
November 21, 2023
Category -
Phobias & Fears
Review from Google:

Dan is so genuine in his desire to help and I have recommended him to several friends as he helped me enormously with my lifelong motion sickness problem, which had impacted on every holiday I took, with a huge anxiety build-up beforehand – not to mention on the flight or boat journey itself. As a result of his sessions, and coping techniques, I have found I can now look forward to travelling without the normal dread of embarrassment and feeling ill for the first 48 hours. I am not completely cured but I can cope and my confidence is vastly improved. I cannot recommend him enough.
Dianne
Ely
November 20, 2023
Anxiety No More Hypnosis Download Review:

Absolutely amazing! Was stuck on a plane on the runway for 90 mins before takeoff and my claustrophobia was taking over. Listening to Dan's voice and the soothing music calmed me so much I was actually able to sleep. Can't recommend enough
Susan Hunt
Ely
November 10, 2023
Review from Google:

Very friendly and welcoming. Effective treatment and great results!
Adam S
Ely
November 10, 2023
Anxiety No More Hypnosis Download Review:

Great toolkit
Verified Buyer
Kent
November 9, 2023
Review from Trustpilot: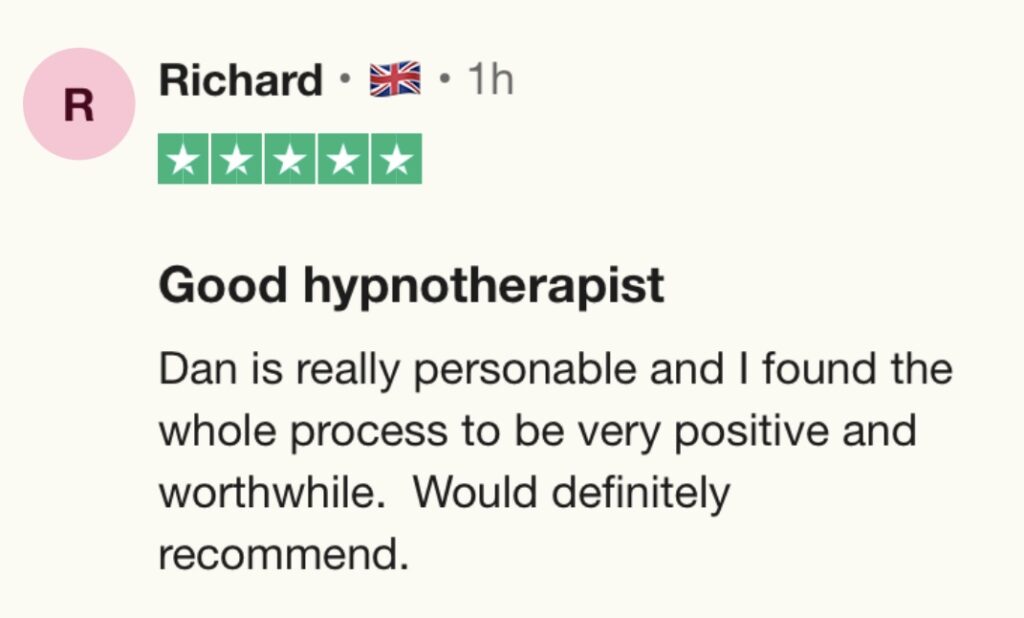 Dan is really personable and I found the whole process to be very positive and worthwhile. Would definitely recommend.
Richard
Ely
October 23, 2023
In this hypnotherapy review, Katy describes how her sessions helped her:
Katy
Ely
October 19, 2023
Review from Google:

Suffering from anxiety based depression for many years I wanted to see if hypnotherapy would help. It did help me.
The sessions take place in a comfortable, secure setting, and Dan is easy to talk to. I felt he listened and understood the issues. The hypnotherapy is deeply relaxing allowing one's mind to calm. I came out of each session feeling relaxed and able to step away for a while from worries. This along with simple, practical exercises has helped to start to see things from a better perspective and to stop unhelpful thoughts which have run on continuous repeat in my mind.
Louise Dobson
Ely
October 18, 2023
Category -
Anxiety & Panic Attacks
Review from Google:

Dan is great and has helped me so much, thank you
Phil Gannon
Ely
October 10, 2023